kühlender Handtuch hersteller | Der Preis ist US$1,5 Individuelles Logo
Größe: 30*100cm oder nach Kundenwunsch
Typ: Kühlendes Handtuch
Material: Mikrofasergewebe, Mikrofaser
Merkmal: Schnell trocknend
Verwendung: Flugzeug, Strand, zu Hause, Sport, Geschenk
Stil: Einfarbig
Individuelles Logo kühlendes Handtuch | China kühlender Handtuchhersteller
Der Preis ist US$1,5/Stück aus China zu kaufen.
Individuelles Logo kühlendes Handtuch | China kühlender Handtuchhersteller
Wir sind ein chinesischer Hersteller von kühlenden Handtüchern mit individuellem Logo und sparen Geld beim Kauf von kühlenden Handtüchern. Sparen Sie Ihr Geld, schneller Versand!
Material: kühlendes Gewebe
Pflegen: Maschinenwaschbar und wiederverwendbar
Größe ohne Dehnung (L x B): ca. 100*30cm groß(Mehrere Stil kühlende Handtücher >>>)
Preis jetzt anfragen====>>>> info@qihaitextile.com
Unsere Kunden: Toyota, Adidas, America Bank, Royal Dutch/Shell,Coca-Cola etc
Merkmale:
*Buntes Design, einzigartig und voller Persönlichkeit
*Lässt Sie sich mehrere Stunden lang kühl und wohl fühlen, wenn Sie Sport im Freien treiben, verabschieden Sie sich vom heißen Sommer.
*Ideal für alle Outdoor-Aktivitäten, wie Radfahren, Golf, Camping, Klettern, Angeln, Jagen, Wandern, Joggen, etc.
*Kann auch bei hohen Temperaturen eingesetzt werden, wie z.B. auf Baustellen, beim Fahren, Schweißen, Lackieren und in verschiedenen Industriezweigen. Kann sogar als Erste-Hilfe-Anwendung wie Migräne, Fieber, Bienenstiche, Verstauchungen, etc. verwendet werden.
Im Lieferumfang enthalten: 1 x kühlendes Handtuch
Wie man es benutzt:
Bitte tauchen Sie es in kaltes Wasser ein
Das Handtuch wird sich aufsaugen um Wasser zu sparen.
Dann können Sie die kalte Temperatur lange beibehalten
Wenn das Handtuch die Kälte verliert, dann bitte tauchen Sie es wieder in kaltes Wasser ein.
100% brandneu
Hochwertige Qualität, Super Verdunstung, fühlt sich bei heißer Hitze deutlich kühler an, Physikalische Kühlung, frei von Chemie, Schnell und einfach, 1 Minute unter Wasser tauchen.
Typ: Gesichtshandtuch
Farbe: wie auf dem Bild dargestellt
Nutzung: zu Hause, Hotel, Sport, Strand, Wandern, Reisen, Geschenk, Fitness Yoga, Klettern
Aufgefaltete Größe: 30*90cm
Spezifikationen:
Verdunstet super, fühlt sich bei Hitze deutlich kühler an.
Physikalische Kühlung, frei von Chemikalien
Schnell und einfach, 1 Minute unter Wasser geben.
Langlebig und nicht zu einem Ball formen, stundenlanges Tragen oder schnelle Linderung.
Säurebeständig und antibiotisch, atmungsaktiv
Das kühlende Handtuch hält Sie beim Spazierengehen, Radfahren, Golfen, Angeln oder anderen Outdoor-Aktivitäten kühl, perfekt für jeden, der Sport oder Heimarbeit betreibt.
Wenn das Handtuch trocken ist, absorbiert es Schweiß und Feuchtigkeit von der Haut.
Paket enthält:
1*Sport sofort kühlendes Handtuch (mit Flasche)
Hinweise:
Aufgrund des Unterschieds zwischen verschiedenen Monitoren spiegeln die Bilder möglicherweise nicht die tatsächliche Farbe des Artikels wider.
Vergleichen Sie die Detailgrößen mit Ihren Handtüchern, bitte berücksichtigen Sie 1-3cm Fehler, bedingt durch manuelle Messungen.
Bitte hinterlassen Sie eine Nachricht, bevor Sie ein schlechtes Feedback geben falls die Produkte Probleme haben.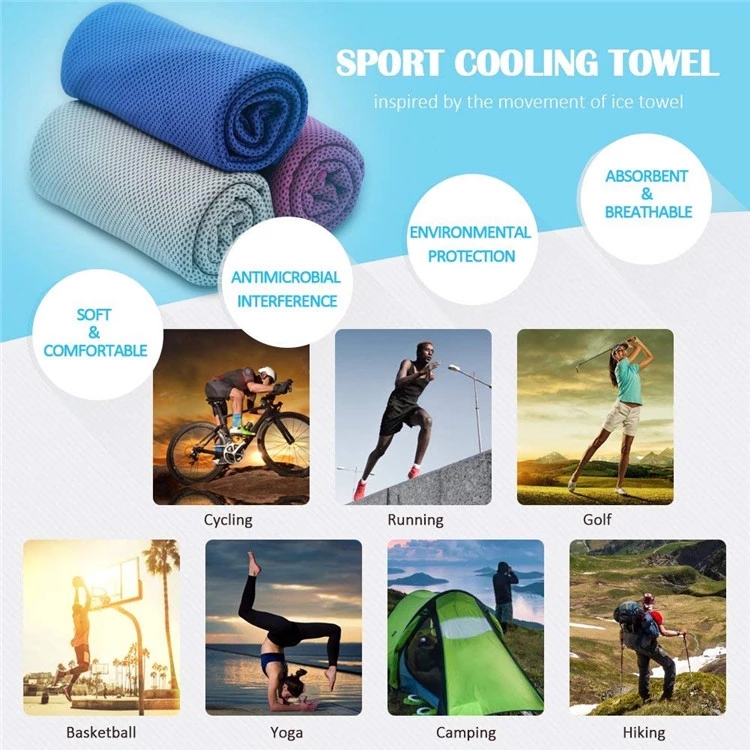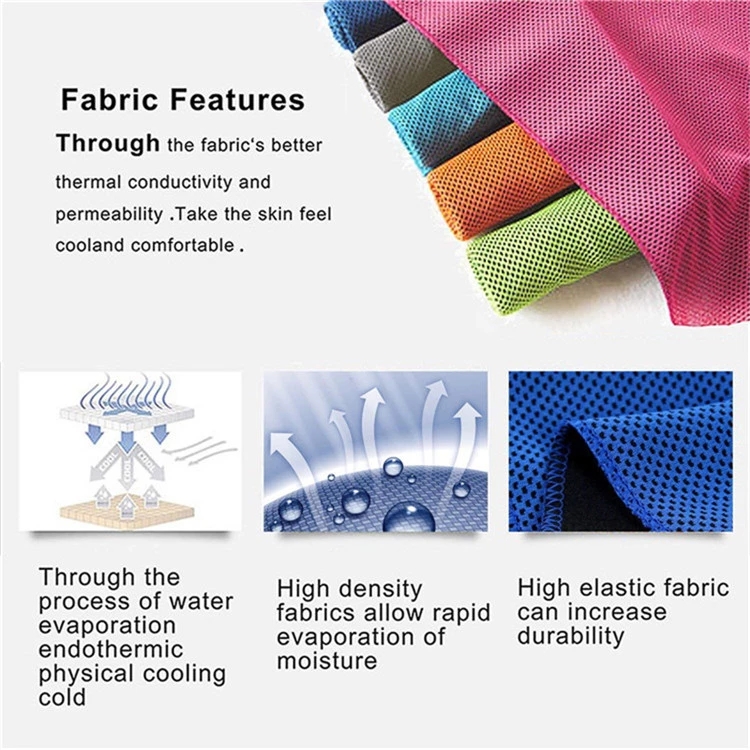 Q 1: Do you have a factory?
A: Yes, we are a microfiber cooling towel Supplier and microfiber cooling towel Wholesale, specialized in producing any design towels, and processing textiles for over 15 years.
Q 2: How can I get a sample from you to check the quality?
A: we welcome sample order to test and check the towel quality and workmanship;
please give us your ideas and more details of the towel you need, such as, material, size and weight. Then we can according to your specification give you a sample.
you can give us your design drawings, or send us a sample , we can make a counter sample for you.
Q 3: Can you offer private label with our own brand logo? Can you add my own brand logo on the towel?
A: Sure! We can help you do private label with your own brand, we can also add your own logo on the towel, such as: embroidery logo, jacquard logo, embossed logo, printed logo, or as you required.
Q 4: What is the lead time for sample?
A: 1. about 1-3 days for existing samples;
about 7-15 days for customized samples depends on your specifications and design
Shipping time: about 5-7 days
Q5: How much do you charge for a sample, including the DHL express shipping?
A: 1. free for our existing samples; you only need to pay the shipping cost about USD30-50
For customized samples, please kindly contact our sales for further communication.
Q 6: What's your min order? Is it possible to start with a small trial order to test the market and establish a relationship with you?
A: 1. For customized products, MOQ depends on the towel specifications/design/craft, but please don't worry, if this is your new business line, or you are a small wholesaler, we can also try our best to help do a small trial order to test the market, we would like to grow up with together!
Q 7: What payment methods your company accept?
A: we accept most of the payment methods, but mainly accept T/T, L/C, Western Union, Paypal, Escrow.
Q 8: How do your packing of the towels? Do you offer custom packaging?
A: standard export packing—each towel single polybag packaging, then put into export cartons; but we can also do customized packing for you according to your requirements.
Q 9: What about your delivery time? Can we receive our goods on time?
A: Well, they depends on the quantity of your order, as you know, we need time to manufacture the towels, usually 25 to 35 days after order confirmed, we regard clients' time as gold, so we'll do our best to deliver goods on time.
Q 10: Do you work with any other company that sells on Amazon?
A: Sure, we have a lot of Amazon customers, we have a lot of experience in operating of this work, we can provide free Amazon UPC product stickers and free carton labels, then help you send the goods to designated Amazon warehouse directly, help you to handle customs clearance, let your business become very easy and convenience!
Established in 2001, we are a professional towel specialist integrating industry and trade together in producing all types of towels and toweling products.
As a  Towel Manufacturer in China, we supply a full range of Soft Cool Neck Scarf ,face towel, bath towel, beach towel, microfiber towel, pet towel, sports towel and so on.